SPOT provides on-request service in the Bonners Ferry area. Local service is provided on Wednesday and Friday from 9 a.m. to 3 p.m., and service to Sandpoint is provided on Tuesday and Thursday. Please call at least a day in advance to schedule a ride. To schedule a ride or for more information, please call us at 208-267-4740. There is no cost for the service.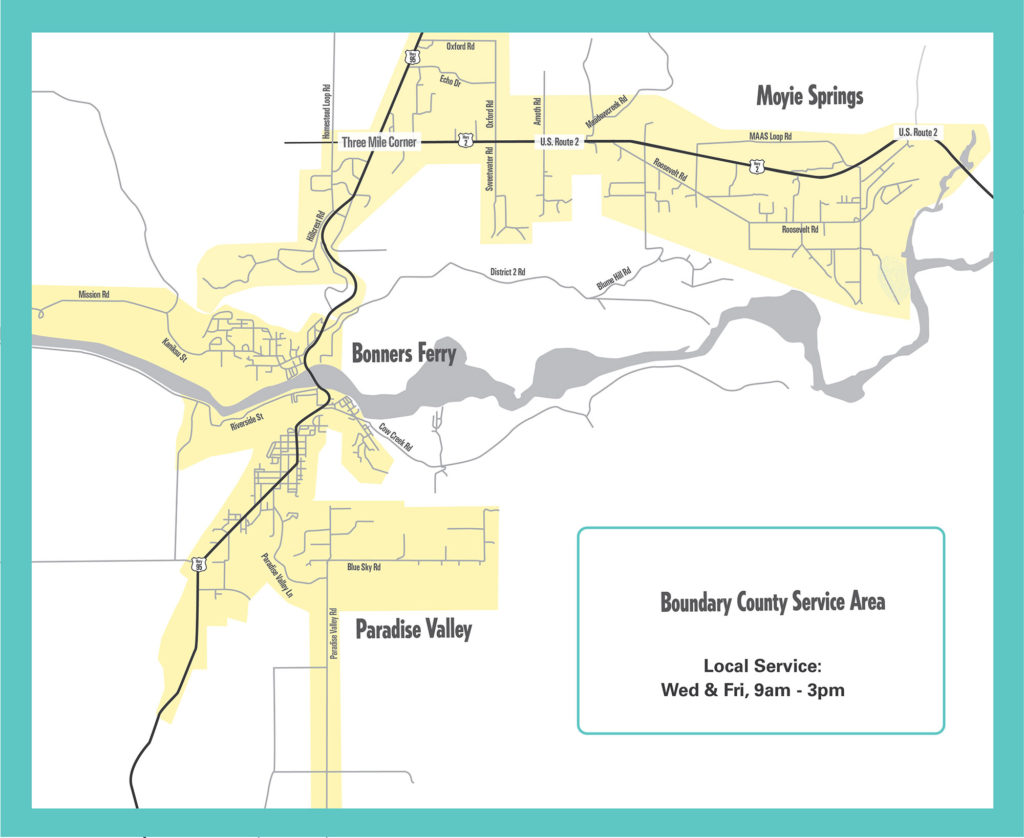 Rider Policies & Regulations
Buses stay on published routes and will only board passengers at designated stops.
All times are approximate. Please be standing at your stop 5 minutes prior to the scheduled time.
All times are subject to change. Schedules are posted throughout the area.
No smoking within 25 feet of the bus.
No consumption of food or beverages on the bus.
Devices which play music or make sound may only be used with earphones.
Disruptive behavior, profanity, or vulgar language may result in removal from the bus.
Children under age 6 must be accompanied by a parent or guardian.
Only service animals are allowed on the bus.
Bags, luggage, backpacks, etc. must be safely stowed in the luggage area or under your seat.
The use of bicycle racks is on a first-come, first-served basis. Riders are responsible for securing their own bikes in the bike racks. Fat tire bikes will not fit on the bike racks.
Shoes and shirts are required.
SPOT reserves the right to refuse service.
SPOT is ADA compliant and provide paratransit services for qualifying persons.
Frequently Asked Questions
How much does it cost to ride the bus?
Nothing. SPOT is free to everyone.
When should I be at the bus stop?
You should be standing next to the bus stop sign five minutes prior to the time posted in the schedule.
Can riders be picked up at places other than designated stops?
No. Passengers may only board the bus at marked bus stops.
Can riders be dropped off at places other than designated stops?
No.
Are kids allowed on the bus?
Yes. However, children under the age of six must be accompanied by an adult.
Is food or drink allowed on the buses?
No. Food or beverages are not permitted aboard. However, groceries in sealed containers are allowed.
We are going to the beach. Can we ride the bus?
Sure. But passengers must wear shirts and shoes. No wet swimming suits on the cloth seats, please!
All the seats on my bus are taken. May I stand?
Yes. Passengers are permitted to stand on the bus, but not forward of the driver.
Can I listen to my music/audiobook?
Yes. Personal audio devices are allowed if earphones are used and the volume is not disruptive.
Where can I get a bus schedule?
Schedules are available online here or from your bus driver.
The bus showed up, but both bike slots were full. Can I put my bicycle inside the bus?
No. Please wait for the next bus.
Are animals other than service animals allowed on the bus?
No.
How many wheelchairs will the bus carry?
Each SPOT bus can accommodate up to one wheelchair at a time.
I am sight-impaired. Can I bring my guide dog onto the bus?
Yes. Service animals are welcome on the bus. They must be under restraint and not on the seat.
Can I smoke at the back of the bus?
No. Smoking paraphernalia of any kind are prohibited within 25 feet of the bus.
Will my fat tire bike fit on the bike rack?
No.
ADA Boarding Information
Download the ADA Application Form
The lift capacity of the wheelchair lifts is 800 pounds.
Wait in view of the driver:
Wait by the bus stop where the driver can see you. That way when your bus arrives, the driver will know to deploy the lift.
If you need the lift, just ask:
If you need to use the lift and the driver has not already deployed it, please ask. He or she can assist you if you need help guiding your mobility device onto the lift. You may board the bus by either facing toward the bus or away from the bus when using the lift, whichever is easier for you.
Priority seating and securement areas:
On board, the priority seating area is at the front or back of the bus. The driver will help secure your mobility device.
Transfer to a seat:
It is your choice to transfer a seat or remain in your mobility device.
Give the driver your destination.
Getting off the bus:
When the bus stops, the driver will remove the securement straps from your mobility device, and deploy the lift for you.
Tips for using the lifts:
Set the brakes on your mobility device and turn off the power.
If you are standing on the lift, be sure to hold onto the hand rail.
Lifts can hold mobility devices up to 30 inches wide and 48 inches long, weighing up to 800 pounds when occupied.
Backing your mobility device onto the lift may make it easier to maneuver into the securement area inside.
Securement:
On board, the bus driver will secure your mobility device to ensure a safe and comfortable ride. The illustration below shows how different types of mobility devices are secured: